SNOW PLOW IDEAL FOR
CLEARING PARKING LOTS
OH4400PH SNOW PLOW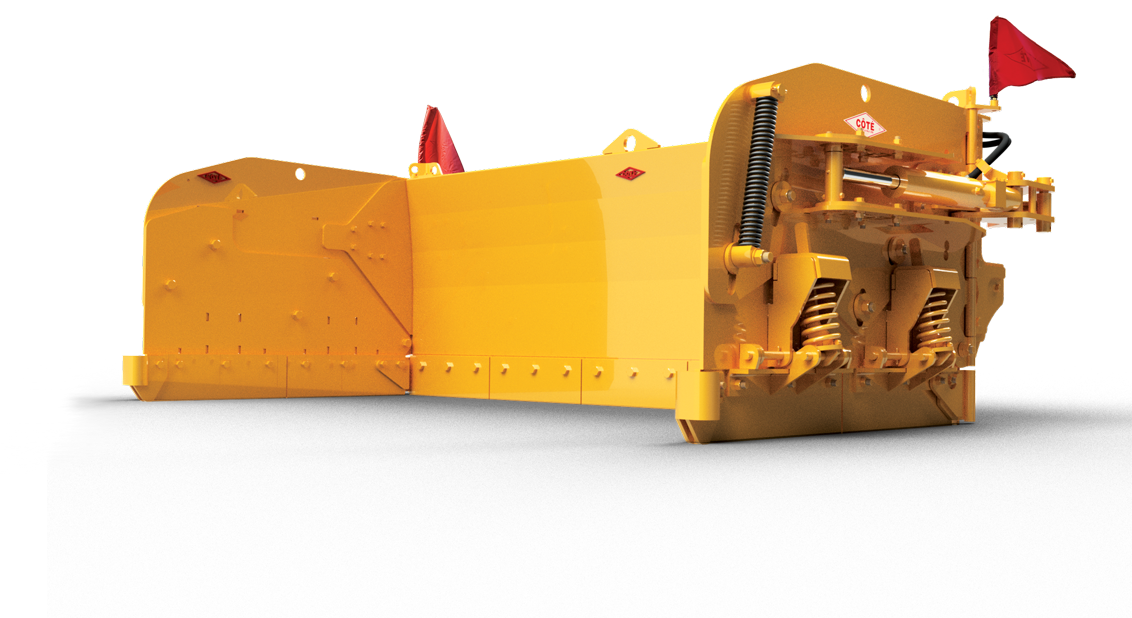 DISCOVER THE UNIQUE OH4400PH SNOW PLOW IDEAL FOR CLEARING COMMERCIAL PARKING LOTS
The most versatile snow plow in the Côté product line, the OH4400PH puts the snow clearing configuration you need right at your fingertips, without having to get out of your vehicle. The hydraulic panels can be positioned in a number of ways with the flick of a multifunction lever installed inside the cab.
Designed differently, but just as tough, the facet-folded moldboard is flattened to let you get as close to obstacles as possible for a flawless result.
OH4400PH SNOW PLOW SPECIFICATIONS
TECHNICAL SPECIFICATIONS


---
One-piece structural facet-folded moldboard
Horizontal self-levelling system that adjusts to road imperfections
Multi-section blade tilting system unique to Côté
3/4" X 8" non-reversible tempered steel wear blade
32° left and right snow removal angle
Dual cross-over release valve to protect the orienting cylinders in the event of an impact
Three-way electric diverter valve
12 V or 24 V multifunction lever (includes quick coupler and electrical connectors)
Panels with ultra-strong 180° hinge system, activated by cylinders protected by a dual cross-over release valve
Panels with a spring-loaded self-floating system that adjusts to road imperfections
Independent adjustable-flow control valve to control the panels' speed
Steel side protectors for clearing along a sidewalk
MODELS, DIMENSIONS AND WEIGHTS


---
MODEL
CLOSED PANELS*
OPEN PANELS
HEIGHT AND WIDTH OF THE MOLDBOARD
HEIGHT AND WIDTH OF THE PANELS
APPROX. WEIGHTS
4401
140 "
220 "
44 " x 120 "
44 " x 50 "
5033 lbs.
4402
140 "
220 "
44 " x 120 "
44 " x 60 "
5200 lbs.
4403
140 "
264 "
44 " x 120 "
44 " x 72 "
5400 lbs.
OPTIONS


---
Tungsten carbide blade
Tungsten carbide side protectors installed at the end of the panel for clearing along sidewalks
12 V or 24 V multifunction lever (includes quick coupler and electrical connectors)
Three-way electric diverter valve to simultaneously activate both panels for greater productivity